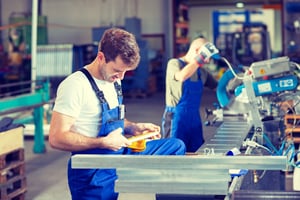 As the end of 2019 nears, you're faced with planning for a full calendar year of objectives to achieve your growth and profitability goals for 2020. How are you expecting to manage this change? And how can you stay on top of it all?
In the guide that follows, we identified eight issues that manufacturers will face in 2020, and we met with our Vice President and Manufacturing Practice Leader, John Madsen, to get his thoughts on how to handle these issues.
John has worked in the manufacturing industry for over 40 years. Before joining the Black Line Group team, he carved his path as a manufacturing business employee, manager, and business owner. His first hand knowledge of manufacturing make him uniquely qualified to help manufacturers, whether he's solving for upcoming changes to the industry or finding qualified R&D Tax Credits in their business.
Learn more about John in his bio.
Table of Contents:
Finding and Keeping Labor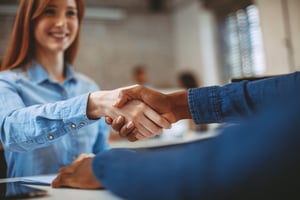 In the United States, where unemployment is low particularly among skilled workers, it's not easy to find motivated, knowledgeable employees. So what steps should you take to find the right people for the job? If you're trying to hire the best manufacturing employees, follow these tips:
Determine Minimum Qualifications. Creating a job description that states the minimum qualifications — and posting it early in the selection process — will help candidates understand clear job expectations and allow you to use the criteria to quickly screen candidates during the process.
Broaden Your Search. Today's hybrid manufacturing jobs require a variety of skills, so widen your focus to include more than manufacturing graduates or professionals. Look for trainable candidates who can learn complex subject matter.
Focus on Retention. Hiring may be necessary, but in today's tight labor market, it can be even more important to hold on to the employees you already have. Consider profit sharing, employee referral programs, and great benefits as retention tools.
Speaking of retention, retaining seasoned staff in an environment where employees consistently make lateral moves to improve their salary and benefits can be challenging. You have to make your business the best place to work to encourage good employees to stay. Creating a culture where employees feel valued contributes to employees' desire to stay.
John puts it this way: "Do not ask for anything you (the boss) are not willing to do yourself. If you ask your team to work late or work on Saturday, be there yourself." He goes on to list 6 tips to retain manufacturing employees in this article.
Back to top
Navigating Changing Laws
Every year, laws change, are updated, or removed. And every year, you have to make sure you're on top of these changes. After all, the consequences of not following changing legislation could be huge!
John suggests that in order to maintain your sanity in an industry rife with fluctuating legislation, focus on 6 areas in 2020 for manufacturing industry laws:
OSHA
Insurance
Right-to-Know
SDS
ISO Procedures
State and Local Laws
Find tips from John on what specifically to look for within each of these areas in our article, Navigating Changing Manufacturing Industry Laws.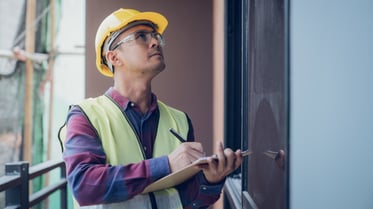 There are some recent tax law changes that can still benefit your business. One such law is the tax law surrounding Meals & Entertainment Expense Deductions. While the amount you can deduct in some instances was changed in 2018, it's important to know the specific circumstances where the deduction still applies so you can take full advantage.
And one tax benefit that's not going away is the R&D Tax Credit. Not only can you deduct qualified expenses incurred during the sales process, but also throughout the entire manufacturing process.
"If you make or improve a product or a process, either for yourself or your customer, you have activities that qualify for the R&D Tax Credit. This credit can substantially reduce your Federal and State tax liability."
-Benjamin Rashleger, former President of WSI Industries, a Polaris Company
There are multiple tax incentives for manufacturers. Here are four tax incentives for manufacturing businesses, including the R&D Tax Credit, the Jobs Tax Credit, the Retraining Tax Credit, and the Work Opportunity Tax Credit.
Back to top
Growing With Increasing Demand
When it comes to demand, manufacturers could face two types of problems in 2020:
You have so much demand you need to increase capacity.
Demand-driven manufacturing is impacting your most important company goals.
Increasing Capacity
Having so much demand that you need to increase capacity can raise complex challenges, like moving to a new facility or expanding your existing facility. Both solutions likely result in a significant expense.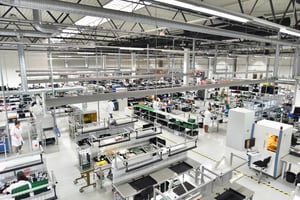 As a previous General Manager of a mid-sized manufacturing business, John understands the trials of trying to decide whether to move or expand. And in his article, 7 Things to Consider When Your Manufacturing Facility is at Capacity, he addresses how to manage that decision-making process. First, is there a non-facilities related answer to this problem? If not, you need to take a hard look at your current facility. What are its pro's and con's? Is there an opportunity to make more space, whether via moving internal machinery or actually adding on to the facility? Finally, it's time to calculate the cost-benefit of moving vs. expanding.
Fortunately, those costs can be offset using the R&D Tax Credit. In fact, we've found that many of our clients end up using their tax credits to expand or otherwise grow their footprint.
Struggling with Demand-Driven Manufacturing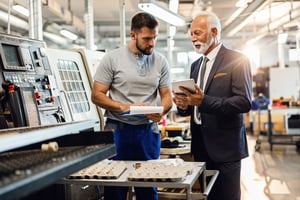 Demand-driven manufacturing is a term used to describe the environment that many manufacturers live in: keeping up with work based on orders from existing customers, leaving little time or money to invest in other critical initiatives.
John identifies four challenges that may stand in the way of growth for demand-driven manufacturers. He suggests strategic use of R&D activities, as well as the funds made available through the R&D Tax Credit, to help overcome these challenges:
Cost of new equipment
High cost of acquiring new customers
Need for a new facility
Complications of adding a second shift
READ: 9 Ways Manufacturers Invest Their R&D Tax Credits to Grow Their Business
Back to top
Tax-Related Issues
First of all, it's your CPA's job to prepare you for tax-related issues. However, not every CPA is going to be completely prepared for the manufacturing industry and the specific issues that it faces. That's why you'll want to be careful when choosing your manufacturing CPA. Specifically, you'll want to confirm that they have industry experience, that they offer a broad breadth and depth of services, that they have great references, etc.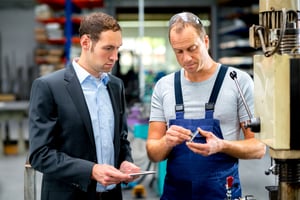 Once you've teamed up with the right CPA firm, it's important that you have a certain level of knowledge on tax-related issues so that you can work with your CPA to solve problems and preemptively avoid others.
As we near 2020, it's important to take a look at some year-end tax tips for manufacturers. John recommends thinking about leveraging tax laws as we have written in the past year in our article, Accounting for Manufacturers: Year-End Tax Tips for Business Owners. Here are some of the highlights:
Tax Cuts and Job Act includes several new or revised deductions for businesses, listed in the article
Changes to fringe benefits, like bicycle commuting reimbursements, moving expenses, achievement awards, and more, have occurred
Changes to some of the laws regarding depreciation and expensing can affect your business' tax situation
There are a few new and revised tax credits for businesses available, listed in the article
And of course, maximizing the R&D Tax Credit should be a consideration.
Automation
As we move closer to 2020, this is something that everyone is talking about. Whether it's artificial intelligence (AI) or more efficient machinery, there are a lot of options to consider when making the right investments in automation.
However, the investment isn't always an easy one to stomach. John shares his thoughts on investments in automation as a manufacturer -- and how he was able to afford it.
READ: Future of Automation in Manufacturing: When Does it Make Sense to Invest?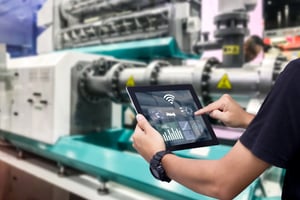 Often, the investment comes down to a cost-benefit analysis. Estimate how much you'd benefit from increased automation compared to how much it would cost to implement. John sums it up like this, "If your company prides itself on innovation and cutting-edge technology, it might make more sense to pursue automation. For smaller companies, it might be wise to wait for the latest technology to come down in price before implementing it."
However, if you need extra funding to afford new automation, look no further than the R&D Tax Credit. You might be performing qualified activities on a regular basis that could provide the tax credits you'll need to afford the new technology.
Back to top
Software Integration
It's common for manufacturers to look at investing in people and machinery, as we've already addressed. Those two areas have a direct relation to the efficiency of your business.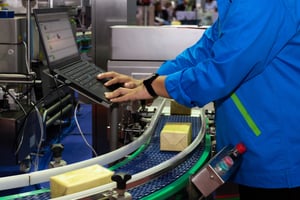 However, don't overlook the importance of software.. Whether it's payroll, project management, or quoting software, the right solution enables your business to run smoothly and makes your managers' jobs a little easier.
John suggests the following course of action when looking into software investment for manufacturers:
Evaluate your current software vs. your business requirements
Research the capabilities and cost of new software
Confirm the software can be integrated with your current systems
Often, we find that manufacturers don't even realize they're out of date because their way of doing things gets the job done. "Your team can be innovative in solving problems, but at what cost?" says John. "Are they making excel spreadsheets to track data outside of the system? Are they handwriting notes from several screens to collect data? Are your customer service people walking the shop floor gathering data to answer customer questions? All of these are signs that point to it being time for a software update."
Back to top
Global Competition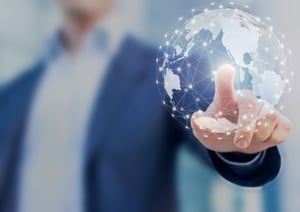 Every manufacturer has to deal with global competition. Whether your competitors are using cheaper offshore labor or there are new technologies and techniques being used overseas, there's always something happening that makes the world feel smaller and smaller each year.
John pulls examples from his own experience to suggest three things to consider concerning international business for manufacturers:
Hidden Costs of Low Prices. "We would quote projects for long-standing customers only to learn (at times) that our competitor was pricing the project for less than our raw material price," says Madsen. "This was a frustrating process and we lost work." Instead of competing on price, take a look at some of the hidden costs of low prices, like language barrier issues, jeopardizing your own intellectual property, or taking multiple trips overseas.
Shipping and Returns. "Often the U.S. buyer is required to pay for the shipment in advance of the product leaving the shipping port," says Madsen. "If any product needs to be expedited, the cost to fly products to the U.S. is very expensive."
International Supply Base. "If an international supply chain is part of your company's strategic plan, make sure you have a contingency plan with U.S. suppliers making up 60 percent and foreign suppliers at 40 percent," says Madsen.
READ: 3 Things to Consider with International Business for Manufacturers
Back to top
Making Margin
There are hundreds of things that can be done to improve your business' margins. So John offers a logical approach to increasing your manufacturing profit margin by focusing on individual customer margins.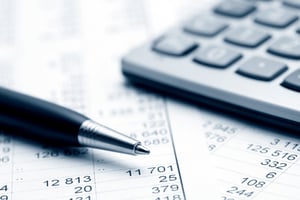 Just because you've been doing business with someone for a long time doesn't mean they're a good customer. In fact, it could mean they've been hurting your business longer than you think. There are a few areas to look for in your relationships with your customers to optimize your margin, like your shipping costs, your contract length, your variability in production (ie- do they always have a steady requirement of product, or do they fluctuate from quarter to quarter), etc.
Of course, customer margin isn't the only place to look to optimize your profits. From channel margins to material cost to supply chain management and everything in between, John goes into deeper detail on where to look to optimize your profit margin in this article.
Back to top
Conclusion
As we enter into 2020, there are likely a few key areas of your business that deserve review. It's important to closely analyze these aspects of your business, from customer relationships to hiring employees to critical internal processes and possibly more.
And while you're analyzing your business, don't forget to consider the R&D Tax Credit. Depending on your level of qualifying activities, you might be eligible for tens of thousands to even millions of dollars in tax relief - which could be the change you'll need to grow faster, be more competitive, and increase profitability in 2020.