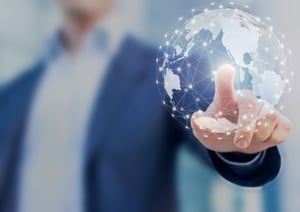 As a leading manufacturer, you are continually navigating an increasingly complex global competitive landscape. That requires successfully managing challenges while simultaneously leveraging opportunities.
Black Line Group's Vice President and Manufacturing Practice Leader, John Madsen, is here to share his experienced insight on how to manage your business from a global perspective.
The Hidden Costs of Low Prices
It is common to feel price pressure from foreign competition. Many times, customers will compare quotes without considering the hidden costs related to working with an overseas supplier. "We would quote projects for long-standing customers only to learn (at times) that our competitor was pricing the project for less than our raw material cost," says Madsen. "This was a frustrating process and we lost work." Madsen shares a few of the commonly overlooked costs involved in doing business with a foreign supplier:
How many trips will it take to certify the process?
Will there be language barrier issues?
Will the supplier use the same raw material that was specified or will they switch to a lower cost material?
Is your manufacturing process unique? How easily can it be duplicated?
Are you sharing intellectual property that could jeopardize your company?
Shipping and Returns
"Often the U.S. buyer is required to pay for the shipment before the product leaves the shipping port," says Madsen. "If any product needs to be expedited, the cost to fly product to the U.S. can be very expensive." Customers dealing with a quality error could also incur cost to return the product or potentially scrap the shipment.
International Supply Chain Considerations
"If an international supply chain is part of your company's strategic plan to lower cost, make sure you have a contingency plan with U.S. suppliers representing at least 60 percent," says Madsen. Based on how the international supplier is performing, along with other seemingly ever-changing geopolitical considerations, the allocation can easily be shifted. This approach allows for re-balancing as needed and also provides a plan to lower costs." Other tips and considerations include:
Know and hire a local consultant.
What is the potential impact culture, social, legal and economic changes could have on product shipments?
How long will your products sit in port?
Are there hidden fees to have your product shipped?
Is the country producing the product granted a "favored" status by the U.S.?
What are the import duties and tariffs?
Are you planning to single source?
"After you understand all of the hidden costs, doing business outside the U.S. may or may not necessarily be the best and lowest cost way to grow your business," says Madsen. "Understand your risks and the full costs before jumping in."
For more manufacturing guidance, check out our Manufacturer's Guide in 2020: Top 8 Issues Facing the Manufacturing Industry in 2020.