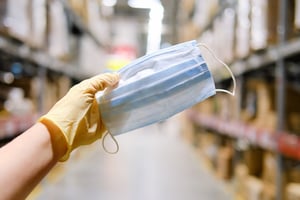 The COVID-19 pandemic has impacted more than 180 countries worldwide and caused unprecedented economic damage to the U.S. economy. In less than a month, our historically low unemployment rate has skyrocketed, sending well over 22 million hard-working Americans to the unemployment line in the past four weeks. This is more than eight times the increase over the previous four-week record of 2.7 million set in 1982.
For those fortunate enough to still be employed, anyone who can work remotely is doing so. Unfortunately, most employed in the manufacturing industry don't have that luxury and need to be in the shop or factory making products and shipping orders to keep the business afloat. In this blog, we focus on three major concerns for U.S. manufacturers in the midst of the pandemic — financial impact, remaining operational and economic recession.
Financial Impact
According to a recent survey by the National Association of Manufacturers (NAM), nearly 80% of manufacturers expect or have already experienced financial impacts to their businesses. The good news is that federal, state and local government assistance to mitigate the damage is widely available in the form of loans, grants and tax code changes.
The Coronavirus Aid, Relief, and Economic Security Act (CARES Act) signed into law by President Trump on March 27, 2020, contains a cornerstone provision called the Payroll Protection Program (PPP). It's aimed at providing assistance to smaller businesses with less than 500 employees. It's designed to provide certain small businesses with cash-flow assistance in the form of a loan made by certified SBA lenders and is guaranteed and administered by the SBA to help deal with the impact of the COVID-19 pandemic. The period to be covered by the PPP is February 15, 2020 through June 20, 2020. Details on this program can be found here.
Other programs available include the Economic Injury Disaster Loan (EIDL) and the SBA Express Bridge Loan.
Certainly, these programs will be helpful in getting many small manufacturers through a difficult couple of months, however, there's no substitute for quickly getting company operations back to the new "business as usual" as soon as possible.
Remaining Operational
The COVID-19 pandemic has necessitated a host of challenges for manufacturers given that the majority of jobs cannot be carried out remotely. This has caused a host of issues related to employee health and safety, customer demand, and supply chain interruptions (58% of respondents to the previously referenced NAM survey expressed concern).
Some companies have closed facilities or laid off large numbers of employees to help slow the spread of the virus, match supply to demand, and stem growing financial losses.
With short-term financing readily available to small manufacturers, there are three items manufacturers can focus on near-term:
Keeping employees safe and healthy by enacting sanitizing policies, social distancing guidelines and additional shifts. Furthermore, we shouldn't underestimate the additional emotional stress many employees are dealing with. Children are being home-schooled, daycares are closed, and parents have been forced to juggle more balls than ever.

When it comes to customer demand, this is no time to wonder. Organize a team and develop a plan to reach out to them to understand their situation, and re-negotiate as necessary to preserve their business and help ensure a predictable revenue stream while maintaining reasonable customer margins. Worst case, you know where they stand and are no longer wondering so you can plan accordingly.

As for supply chain concerns, based on customer demand, the same advice applies as above —dig in, understand their situation and make plans accordingly to help ensure customer demands can be met. Like your relationships with your customers, you are a customer of your suppliers and everyone needs to work together to get through this.
Economic Recession
It's almost certain that we have entered a recession. In the last two weeks alone, well over 10 million Americans have filed for unemployment. Despite talk of re-opening the economy in phases starting in early May, the country largely remains locked down under state governors' stay-at-home orders.
Our perspective is that the sooner normal business operations can safely resume, the shallower the economic impact and the quicker the recovery. In the meantime, we can only do what we can to take care of our employees and customers. But, in the vast majority of the cases, my experience has shown that all you can do is all you can do, but all you can do is usually enough.