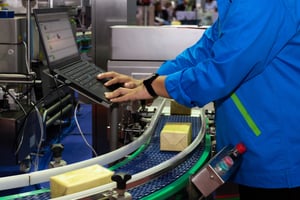 For most manufacturers, the first thing that comes to mind when you have some extra disposable income is new machinery or equipment. Here at Black Line Group, we help manufacturers find qualifying R&D Tax Credit activities in their business, which can give them tens of thousands to millions of dollars in tax credits that they can reinvest in their business -- often in new or upgraded equipment.
But when does it make sense to invest in software? We sat down with our VP and Manufacturing Practice Leader, John Madsen, to discuss the various aspects to consider when looking into investing money back into your business. A software investment could mean helping your business grow faster, be more competitive, and increase profitability.
Evaluating Your Current Software
Do you have security or business reliability concerns? Is your current system no longer supported or does it crash often? Take note of what your employees are doing to solve the inefficiencies of your current platform. "Your team can be innovative in solving problems, but at what cost?" says John. "Are they making excel sheets to track data outside of the system? Are they handwriting notes from several screens to collect data? Are your customer service people walking the shop floor gathering data to answer customer questions? All of these are signs that point to it being time for a software update."
Investment Costs
When it comes to updating an operation platform, the cost to the company is more than simply the purchase of the system. Training and implementation are a soft cost that can overwhelm and delay original predictions for improvements. The R&D Tax Credit can offset some of this expense when qualified research and development activities are conducted. In fact, there are generally numerous activities within a software project that contain Qualified Research Expenses (QREs). The R&D Tax Credit was designed to encourage companies to not only develop new products and processes, but also to improve existing products and process - To give you an edge in a competitive market. Take a close look at your new software project to understand ways in which it can be innovative and improve your existing processes.
System Integration
When implementing new software, another consideration is how will the new system talk to your payroll, management system, quoting software, or other systems? Have a defined objective for the new system like resource planning, job flow, identifying labor cost, and monitoring equipment output. What is the problem you are trying to solve? Is your goal to run lights out? What do you need from your software to manage a system that would support artificial intelligence? Knowing the soft cost of operating your current system with stagnant data can play a part in your decision to upgrade your operating system. True, the purchase of new equipment is often an easier ROI, but at some point, the operating system must be addressed. Smart planning and research and development considerations can help you identify opportunities for cash flow in this area if the R&D Tax Credit is used.
The Four-Part Test
For any activity to qualify as R&D, it must first pass the Four-Part Test. The four parts of the test are:
Talk with a specialist about how the credit can help your business be even more profitable. Working with a professional tax adviser throughout this complex process is the best way to ensure a thorough and accurate claim is prepared for filing, in order to maximize your return on investment in software.