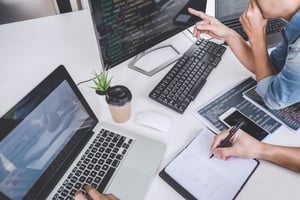 Ever since the U.S. Department of the Treasury released its new regulations in 2016 that provided more clarity on the definition of Internal Use Software (IUS), companies of any industry were able to take far more advantage of the R&D Tax Credit as it related to their own unique software activities.
Those activities aren't limited to simply development: Software purchase and improvement also provides an avenue towards obtaining the R&D Tax Credit while benefiting your business—so long as that activity is done in support of general and administrative functions supporting the trade or business and are NOT for sale in any way. The general and administrative functions that can be served to qualify for the R&D Tax Credit are limited to:
Financial management functions
Human resource management functions
Support service functions
If your business, regardless of your industry, has built or purchased and upgraded software to help with one of these internal functions, it often qualifies for the R&D Tax Credit. NOTE: In order for purchased software to qualify for the R&D Tax Credit as Internal Use Software, your company must have spent time and other resources making modifications or improvements to it to suit your organization's needs. It can't have just been bought and used as-is.
The 3-Part High Threshold of Innovation Test
Once you've identified an area that can be considered as IUS, you need to not only pass the Four-Part Test but the 3-Part High Threshold of Innovation Test, too. The Four-Part Test helps companies determine if their research and development activities qualify for the R&D Tax Credit. The four parts include elimination of uncertainty, process of experimentation, technological in nature, and qualified purpose (more on that below). The 3-Part High Threshold of Innovation Test regulations are:
The software results in cost reduction, improved speed or other measurable improvement that is substantial and economically significant.
The software development process involves significant economic risk. This means that the taxpayer commits substantial resources to the development and there is uncertainty due to technical risk that the resources would not be recovered within a reasonable period of time.
The software is not available to be purchased, leased, or licensed in the commercial market and is used for the intended purpose without modifications required to satisfy the innovation and significant economic risk requirements above.
These regulations are designed to encourage companies in all industries to continue to invest in "software innovation" that allows them to compete more effectively on a global basis.
The Four-Part Test
Once you've identified potential qualifying activities, run it through the four-part test to verify. The four parts of the test are:
If you're not sure where to start, or still have questions, we're here to help.