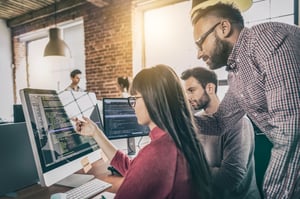 It should come as no surprise that most activities performed during the software development and coding phase typically qualify for the R&D Tax Credit. After all, the credit was designed to encourage research and development of new and improved products and processes. Still, it's important to understand which activities qualify for the R&D tax credit within this phase.
The Software Development Life Cycle (SDLC) – the seven main phases of software development – is a good place to look for qualifying research and development expenses. One of our previous blog posts described the seven phases of software development. This blog will focus on activities within Phase Four: Development and Coding.
Development and Coding
This is the phase where work begins in earnest. Programmers, network engineers, database developers and others begin executing to construct the major project deliverables. This phase typically involves translating the requirements and specifications developed to date into code within the required technical environment to ensure the user and business needs are met. Throughout these array of development and coding-related activities, QA (Quality Assurance) is also busy finalizing the system testing and user acceptance criteria. Once coding is complete, unit testing is conducted.
In addition to all the core technical, development / coding related activities, here are a few activities that usually qualify:
Developing and documenting test and user acceptance criteria
Iterative process of testing and updating code to achieve the desired result
Technical, environmental, system and program documentation
Supervisors / managers time involved in leading, directing and coaching the staff performing qualifying activities
A specific example of an activity that does not qualify is development of user/help documentation that may occur during this phase.
Documentation is Critical
The majority of qualifying R&D expenses relate to employee wages and U.S. based contractor fees (65%). Therefore, its critical to keep clear and accurate documentation on exactly how much time is spent working on qualifying activities in order to properly claim R&D tax credits. This is typically done by project, by staff, by total hours spent on each qualifying activity. Documentation must prove:
Projects qualify for the credit (there is a risk and you retain the rights - Time and materials projects do NOT qualify)
Have conducted the activities for which you are claiming the credit and they pass each part of the Four-Part Test
You qualify for the financial amount you are requesting
The Four-Part Test
Once you've identified potential qualifying activities, you must always run them through the Software Industry's Four-Part Test to verify. The four parts of the test are:
Permitted Purpose. This is the activity intended to make or improve either a product or process that results in improved function, performance, reliability, quality or cost efficiency.
Technical Uncertainty. This is the activity intended to eliminate technical uncertainty when developing or improving a product or process related to methodology, design, techniques, formulas or inventions.
Process of Experimentation. This is the activity that includes a process of experimentation to eliminate or resolve technical uncertainty. During the process, various alternatives and approaches are evaluated by modeling, simulation, trial and error, prototyping and other methods.
Technological in Nature. The process of experimentation must rely on the hard sciences (engineering, physics, biology, chemistry, computer science).
Applying for the R&D Tax Credit can be a complex process. If you are interested in pursuing the R&D Tax Credit for your software business, contact Black Line Group to discuss your planning phase and we can jointly determine how various activities pass the Four-Part Test.