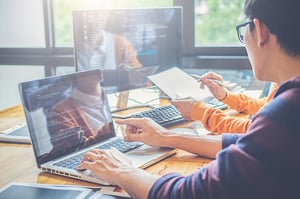 Successful research and development in any industry requires a strong foundation of knowledge in that industry. That's why the experts at Black Line Group are more than just leaders when it comes to helping businesses maximize their R&D Tax Credit benefits. We also have the practical experience in the industries we serve so we know where to look for these tax credits - We've been there.
Our Chief Revenue Officer, Peter Harrington, has seen first-hand what life is like inside a software company. Peter has spent over 30 years in the software industry, beginning his career as a programmer, and prior to joining Black Line Group, was running a mid-sized software company. Peter has done and managed the activities of every department within a software company. His five biggest points of emphasis are outlined below to help software companies accelerate their success in 2020.
Talent, Culture & Motivation
It's no secret that the best people give your organization the best opportunities for optimal results. But how do you define "best?" "I have found, it's not always equivalent to book-smarts," says Peter. "Let's face it, we all know several really smart people that just 'don't get it.'" There certainly must be minimum knowledge and experience thresholds based on the responsibilities employees take on, but the best employees embrace the company's values, have high emotional intelligence and bring a strong work ethic along with a "we, not me" mentality to the table. In terms of culture and motivation, company leadership can definitely help.
Motivation comes with a paycheck for some, but broader, more sustainable motivation comes from growth opportunities (upward mobility, learning the hottest new technology, working on the companies most critical project, developing highly satisfied customers, helping grow the business) provided by leadership. This means ensuring that employees feel supported, have an understanding of how they're performing, and know how their roles contribute to the company's success. It also means giving employees the freedom to work on what they love—and allowing them to succeed or fail on their own terms. Ideally, giving employees the opportunity to pursue their passion, while in alignment and fully contributing to the company goals, is an ideal scenario.
Security
Organizations have different approaches to data privacy and security, but they all should have one thing in common—a serious commitment to preventing data breaches and fending off cyber attacks. It takes many years to establish your reputation, but only moments for that reputation to be lost due to poor cybersecurity. Avoid disruptions to your business operations or, worst case, going out of business, by putting the proper resources towards keeping your data private and secure.
Knowledge Sharing
Institutional knowledge is difficult to acquire and easy to lose. This is especially critical in the software industry where the best employees, often with the most knowledge, are a hot commodity and are constantly being recruited. This not only applies to developers but also to the most respected individuals in other areas of the company, like Customer Support, Product Management, QA, Sales, Sales Support, Training, and Implementation. While nobody is irreplaceable, some employees are much harder to replace than others.
So, with a lot of knowledge to share, it's critical that organizations have a plan in place to pass knowledge to others. There are several ways to facilitate this sharing so make it fun and interesting for all.
Time to Market and Scalability
We all know that the best product in the market doesn't necessarily win the business. However, with the demands for broad integrated solutions that deliver a great user experience and substantial ROI for the customer, this isn't the time to be complacent. Listening to your customers and being tuned in to what they need to be more competitive in their chosen markets is key. "Lets face it, customers want to be listened to and they want to know they are valued and that you take their input seriously," says Peter. Figure out a way to give your customers what they want and need better and faster than anyone else can. Done right, you will set your organization up to be able to attract, engage and delight your customers for years to come.
Modern Marketing
Doing things a certain way because "it's how we've always done it" is the motto of a soon-to-be-failing business. Customers don't purchase the way they did even two years ago—let alone five or ten years ago. Maximize your marketing dollars by meeting your customers where they're at using inbound marketing. Rather than creating ads for television, newspapers, newsletters, or magazines; create blogs, articles, and FAQs that answer questions people actively ask on Google. You can find questions people are asking by recalling FAQs you often get from your customers. Broaden that list by searching for those questions in Google to find tangential questions and answers. This is a good starting point to draw in potential customers to your website, but to fully embrace modern marketing, partner with modern marketing professionals.
Working on improving these five issues common to so many software companies can help set you up for success in 2020. Contact Black Line Group if you're interested in improving your bottom line with a little help from the R&D Tax Credit -- and experts like Peter who know your industry.