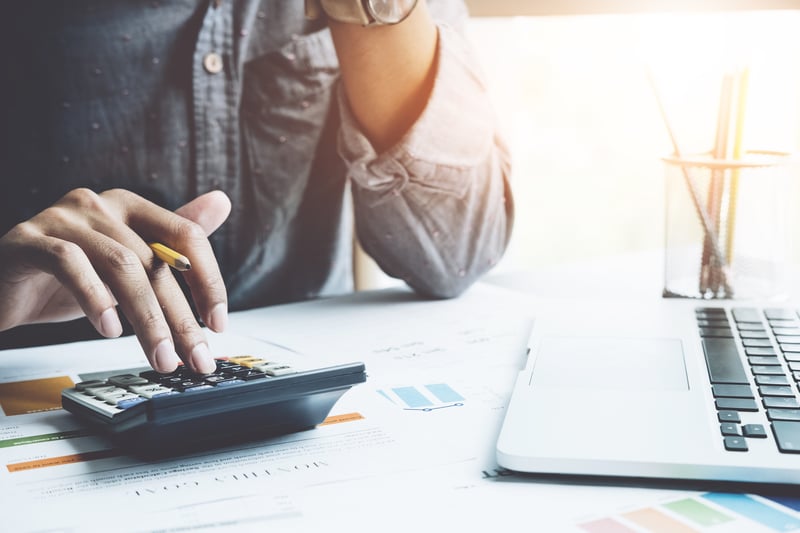 Of course, saving tens of thousands — or even millions — of dollars by claiming an R&D Tax Credit sounds appealing. Yet, without professional insights into how to identify the QREs (Qualified Research Expenses), many companies are missing out on tremendous opportunities.
A specialized firm with experience and knowledge of your industry can conduct a research study to uncover QREs that your internal staff or CPA won't see. But that comes with questions:
What fees should I expect?
What does a full research study cost, including time from our staff?
How long does a study take?
What ROI should you expect from an R&D Tax Credit study?
Is conducting a study worth it in the long run?

To help ensure you're getting the best possible experience and results at the lowest price, here's a breakdown of the elements you may want to consider.
How Much Does an R&D Study Cost? It Depends on Hours and Expertise
There's no simple answer to "What does an R&D Tax Credit study cost?" but we'll review what can drive costs. Before doing that, however, you should know that qualified tax credit firms provide a complimentary feasibility assessment of your situation before engaging in an R&D Tax Credit study. So, you'll be able to review your provider's no-cost analysis and recommendation on conducting a study or not.
With that in mind, the total R&D Tax Credit study calculation varies based on the estimated hours to complete the study and the level of expertise required.
Hours
Per IRS guidelines, most firms do NOT base pricing on the credit amount received, but rather on an hourly rate, often consistent with what most CPA firms charge per hour.
On average, a simple study takes 60-100 hours of a provider's time and 10-30 hours of the company's time to complete, which includes meeting time. The exact amount depends on a company's structure and the amount of R&D activity it's doing.
Typically, the hours to complete the study (and its fees) roughly translate to a range from 15% of the estimated tax credit for large complex studies to 30% of the estimated credit for smaller studies.
Expertise
The simpler and easier the study, the less it costs your business. Conversely, the deeper and more complex the study, the greater the likelihood to uncover QREs that often get overlooked.
As studies increase in time, complexity, and cost, more QREs are identified by the specialized firm, and the credits increase at a faster rate than the cost (driving ROI up). For large studies, the ROI can be in the 500%-1000% range (for every $1 you invest, you get $5-$10 back in the form of reduced tax liability). That kind of ROI shows that an R&D Tax Credit study is well worth your time.
Costs for First Years and Subsequent Years
As you might expect, a company typically pays more the first year partnering with a firm. Base period calculations and start-up costs (becoming familiar with a company, its processes, its staff) requires an investment in time, so first-year fees are higher than following years.
Check out the video below as Dan Digre from MISCO Speakers shares his experience working with Black Line Group year after year.
Audit Defense
One of the most important reasons to hire an R&D Tax Credit specialist is the documentation of QREs and all claimed credits. The right partners won't claim a dime on a company's behalf that cannot be justified and defended.
Although Federal and State audits are rare (only 1.3% of Black Line Group customers get audited by the Internal Revenue Service) some clients prefer to include audit defense insurance in their agreement.
Visit our pricing page to discover how we at Black Line Group price our R&D Tax Credit studies.
After Considering R&D Tax Credit Fees, Is It Worth It?
The short answer: yes, it's usually worth it. An ROI ranging from 200% to 1,000% is worthwhile for most companies.
Yet, take a moment and consider this: How would it feel to have tens of thousands of dollars (or more) to reinvest in your business to help relieve some of the pressures and challenges of 2020? The opportunity could be huge considering many eligible credits are so often overlooked.
Speaking of opportunities, many business owners don't realize that qualifying R&D Tax Credit activities may be things you're doing every single day. It's far from white lab coat work that's considered "research and development" by the IRS.
A specialized firm will discover, claim, and defend claimed credits. Once you find the right partner that provides the best experience and value for your money, you can reinvest the credit back into your business, be more competitive, grow faster, and make more money.
See for yourself how one company realized a return of $6,193 for EVERY HOUR invested in their study. Click here to get your copy of this case study.